Whether you're here out of pure accident or are truly seeking for a home business opportunity, you are in the right place.If you're interested in starting your own business or already running a business you'll find this web site useful.
We offer everyone the very real opportunity to run a successful international business. At present, we operate from 7 countries/territories but our business partners have taken our products to about 30 others.
Our business area is spreading out. We base on Taiwan and aggressive to set up the global business operating system in Asia and North of America, to provide efficiency and convenience service for our global sales distributor. We expect to yield unusually brilliant results in near future, and also explore our business in worldwide area.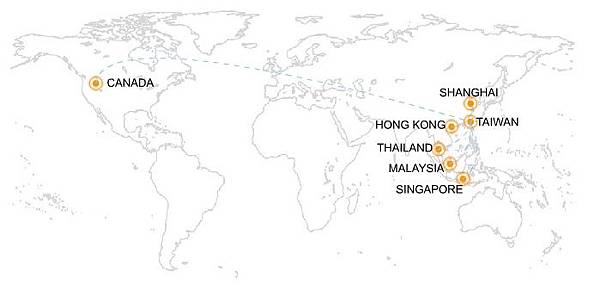 Anyone from anywhere (including countries where we've yet to establish our presence) can be sponsored into this business. Unlike many other companies, we do not restrict where you can conduct your business. In fact, we encourage you to explore new markets within your capabilities. The more people you sponsor into this business, the greater your opportunity to become an international entrepreneur.
The uses of the home spa depend on your vision of usefulness to prospects. They can be useful in beauty saloons, medical hospitals, upscale condos developers, psoriasis & arthritis clinics, racehorse jockeys, members' clubs massage parlours and as unique presents.
Cancer patients on chemotherapy are said to benefit from the use of the SG2000; however work closely with your cancer specialist if you wish to use the SG2000 home spa.
Some owners and pet groomers in Singapore use the SG2000 to provide hydrotherapy for dogs. It is recommended that you consult your vet when your dogs have skin problems and infections.
Businessmen entrepreneurs who cannot sleep well, smoke a lot and are always thinking of how to make the next million dollars or meet ends meet usually have neck muscle aches.
Corporate managers who spend long hours at their computers and meetings will usually suffer neck muscle and shoulder pain. These professionals will benefit from a daily or regular 15-minute ultrasonic bubble bath massage with aromatherapy.
We provide a comprehensive training program on how you can operate successfully in a new country. We have created a successful model for business partners to replicate. We will teach you how to built a business using a simple system for creating the kind of lifestyle most people hardly dream of.
The Advantages of Hydrotherapy Business:

1. Home Spa is a Worldwide trend.

2. R & D, manufacturing and marketing.

3. Sales via ProductTrial: quick result

4. Global Business without boundaries.

5. High commission.

6. Consumer yet business builder.

Contact us to learn more about becoming our business partner.